Waking up to a new world of a Cubs Pennant
I've always loved the Chicago Cubs since I was a little kid. Maybe it started with the name but it grew into admiring the great players that have been on the team, and being in love with one of the greatest baseball parks in America, Wrigley Field. Cheering for the Cubs to win the Pennant has always been fun in a large part because they have always fallen short, 71 years for a Pennant and 108 years since a World Series win.
By Ray Hanania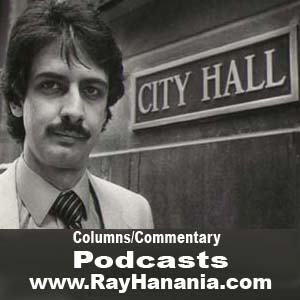 I've always loved the Chicago Cubs, ever since I was a little kid growing up on the South Side of Chicago where most of my neighbors were all diehard White Sox fans. Even Chicago's great mayors, Richard J. and Richard M. Daley were Sox fans.
Still, maybe that love was with the Cubs' name. But it grew into admiration of the many great players that have played for the team, and definitely true love with one of the greatest baseball parks in America, Wrigley Field.
Cheering for the Cubs to win the Pennant has always been fun in a large part because they have always fallen short of making it to a World Series game — it's been 108 years since their last World Series victory in 1908. The Cubs played three back-to-back World Series in 1906, 1907 and 1908, winning the last two. But that led to a 108 year draught. The Cubs won the Pennant in 1945 but lost the World Series to the Detroit Tigers.
It would be the last World Series they would ever play, until now. The Chicago Cubs were the "underdogs" of baseball.
The "underdog" is a powerful symbol of determination, persistence, stubbornness to succeed. It's something that I have always embraced, in everything, including politics. I'm definitely an "underdog" fan, not just of the symbolism but of the many other related spin-offs including the popular Underdog animated series that began in 1964 and ended in 1973.
"There's no need to fear. Underdog is here," the proud and powerful yet "humble and lovable" Shoeshine Boy cartoon doggie would declare as he quickly turned into a superhero, whose goal was to save people.
The Underdog saving people. It's a heartwarming theme that kept Cubs fan's hearts warm for more than 108 years in this country.
The Chicago Cubs changed that last night, October 22, 2016, a day that will go down in history as one of the great days in American baseball. They won the National Championship and the 2016 Pennant.
The Chicago Cubs defeated the Los Angeles Dodgers in six games, and the clincher was at Wrigley Field on Saturday night when Chicago's team shutout the Dodgers and their over-ballyhooed "fearsome" Goliath of a pitcher, Clayton Kershaw. Anthony Rizzo, Javier Baez, Kris Bryant, Kyle Hendricks, our phenomenal pitcher that night, Ben Zobrist, David Ross, Willson Contreras, Jason Heyward, Jake Arrieta and so many more brought it home together.
In my eyes, Rizzo, Bryant, Hendricks are the Mickey Mantles and Roger Maris' of my boyhood baseball heroes.
That feeling that the Cubs are the "Underdog" saved Cubs fans and is overpowering, helping to survive a mythical curse that many used as the excuse to explain why so many other Cubs greats had failed to bring their team to a Pennant sooner. Ernie Banks, who lived in Pill Hill, a few blocks away from where I grew up on Chicago's South East side in the 1960s, which was also right down the street by another underdog powerhouse, Muhammed Ali. And Ron Santo, and power hitter Billy Williams. The faces changed many times. Great pitcher Fergie Jenkins, Randy Hundley and power hitter Glenn Beckert.
We saw all the names come and go, dogged under the shadow of an excuse, a hyped-up curse about a Greek immigrant and bar owner, Billy Sianis, who tried to bring his goat into the 1945 World Series game, the last game the Pennant flying Cubs would play for 71 years. The blue and gold clothed Andy Frain ushers refused to allow Sianis and his goat into the ballpark, and he gave them an Old World, Middle Eastern curse. The Cubs lost the World Series to the Detroit Tigers and it's been drought ever since.
No World Series victory since back-to-back victories in 1907 and 1908. No Pennant win since 1945. World Series hopes dashed year after year since. No wonder wags would manufacture a stupid excuse that would become folklore in Chicago and around the country about a goat and an immigrant bar owner.
Columnist Mike Royko, who I knew and worked with, glommed on to the story told by the goat owner's nephew, Sam Sianis, at none other than the Billy Goat Tavern under Michigan Avenue where Royko and his adoring entourage of journalist pals and bar admirers would sit, eat burgers and get drunk on beer. Billy Sianis was a entrepreneur and super promoter who was in the news all the time, mainly in Royko's columns. But Sianis also created his own news, like when he petitioned Chicago Mayor Richard J. Daley for the first liquor license for the moon.
Royko later wrote that it was all just in good fun. A typical Chicago good story, or "gawd stawwy" as my City Hall journalism mentor would put it, the late great Harry Golden Jr. And it was a good story, the only believable explanation for why the Cubs had not won a pennant (71 years) or won a World Series (108) in such a long time.
Great players. Great fans. Great ballpark.
The truth is that the Billy Goat story is nothing more than an excuse to explain away years of not winning. Underdogs are often shouldered with that explanation. They just didn't make it. A team isn't just a few great players like Ernie Banks, Billy Williams, Fergie Jenkins and Ron Santo who can slam in home runs. It's a team that comes together to keep the other team from scoring.
And that's what the Cubs did Saturday night. They kept the Los Angeles Dodgers from scoring. They played almost perfect baseball. Three memorable double plays took the Dodgers off the bases before they could get past First Base, the criteria needed to threaten runs.
The Cubs will play the Cleveland Indians, who are also in a mini-slump of their own, having not won a World Series since 1948. If only the Cubs just had that problem.
Winning the World Series is great. Playing in the World Series as the underdog is dynamic. Electrifying. Something that will charge up Cubs fans more than any other baseball or sports fan in the country.
This is a new world where Chicago Cubs fans can lift up their heads with pride. They did what everyone said they couldn't do. It took a long time to get there, 71 years, and who knows if they will win the World Series … I hope they do … something they haven't done in 108 years since 1908.
I don't care. We counted the years since Pennant and World Series wins like the statistics we count for the players themselves.
The Chicago Cubs won the 2016 National League Pennant and that is good enough for me. If they win the World Series, I will be happy, but we will always be the underdogs of baseball.
Where were you when the Cubs clinched it? It's a question that will go down in the history books along with several other. Where where you when John F. Kennedy was assassinated? Where were you when Princess Di was murdered by the paparazzi to prevent her from marrying a Muslim Arab playboy?
Whatever.
The Cub has become the Bear, and not soon enough, ironically.
"There's no need to fear. The Underdog Cubs are here!"
Check out Aaron Hanania's interview with Anthony Rizzo in 2015 and visit his website at www.Aaron411.com.

Ray Hanania is senior blogger for the Illinois News Network news site. He is an award winning former Chicago City Hall political reporter and columnist who covered the beat from 1976 through 1992 (From Mayor Daley to Mayor Daley). And, Hanania is a stubborn and loud critic of the biased mainstream American news media.

Hanania covered Chicago political beats including Chicago City Hall while at the Daily Southtown Newspapers (1976-1985) and later for the Chicago Sun-Times (1985-1992). He published The Villager Community Newspapers covering 12 Southwest suburban regions (1993-1997). Hanania also hosted live political news radio talkshows on WLS AM (1980 - 1991), and also on WBBM FM, WLUP FM, WSBC AM in Chicago, and WNZK AM in Detroit.

The recipient of four (4) Chicago Headline Club "Peter Lisagor Awards" for Column writing. In November 2006, Hanania was named "Best Ethnic American Columnist" by the New American Media;In 2009, he received the prestigious Sigma Delta Chi Award for Writing from the Society of Professional Journalists. Hananiaalso received two (2) Chicago Stick-o-Type awards from the Chicago Newspaper Guild, and in 1990 was nominated by the Chicago Sun-Times for a Pulitzer Prize for his four-part series on the Palestinian Intifada.

Hanania writes columns for the Southwest Community Newspaper Group including the Des Plaines Valley News, the Southwest News-Herald, the Regional News and the Reporter Newspapers.

Latest posts by RayHananiaINN (see all)