This post has already been read 3132 times!
Board of Review needs your attention
DVN, The Reporter, The Regional Sept. 29, 2016
By Ray Hanania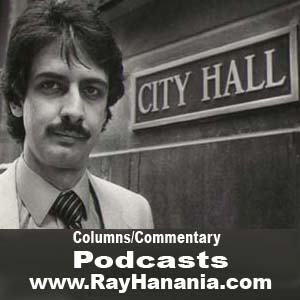 I know the big focus on November 8 is the battle between Hillary Clinton and Donald Trump, but there are other elections that in reality more directly impact your lives.
The most important is an obscure office called the Cook County Board of Review and it has three members representing three districts that supposedly review your property taxes to make sure they are fair.
What really happens is that some of the commissioners use the lure of reducing your property taxes as a scam to get you to attend their re-election campaign events. They organize public "tax review" meetings and invite the public to "learn" how to challenge your property taxes.
Nothing happens. Your taxes remain the same.
You should remember one name if you live in the Southwest Suburbs who is trying to change that, Marty Stack.
Marty stack is an attorney who has banged his head against the obstinacy of the Board of Review and understands how it works and how it should work.
Stack wants to end the confusion that surrounds the whole process of challenging your taxes. Most homeowners have learned the hard way that:
1 – hiring an outside attorney to challenge your property taxes doesn't work. The 3 Commissioners decide which challenges get approved.
2 – appealing to reduce your taxes at one of those useless public hearings or by going on line and doing it yourself doesn't work either. But the commissioners, all politicians, still decide who does and doesn't get a reduction.
Click here to listen to the podcast or use the widget below:
Stack, who sees through this bureaucratic scam, wants to change things and make it easier for you to compare your property to other comparable properties right in your neighborhood and see for yourself if your taxes are really higher.
Right now the system is too confusing. There are ridiculous deadlines that are a confusing mess.
Even if you manage to sort through the deadlines and heavy paperwork and long forms that have to be filled out, your form still has to be reviewed by the commissioners.
Stack wants to allow homeowners to go directly to the Board's now useless website and enter their property information. The website would then provide up to 10 properties in your immediate neighborhood that are "comparable" in size and design.
YOU compare your taxes to the average.
If your taxes are higher, then what's to decide? You deserve to have your property taxes reduced.
If your property taxes are lower than the average, then you know the truth, and you don't have to go through with the process and waste your time.
Eliminating the arbitrary deadlines and the confusing process will make it easier for you to do it when it is convenient to you, not the commissioners or the county.
Allowing you to make your own case by submitting facts (like how your property taxes compare to others) should automatically make your reduction a system certainty. Take it out of the hands of the commissioners.
Why allow three commissioners to make the decisions? Facts should make that decision. Marty Stack wants the county Board of Review to give you, the hardworking, taxpaying homeowner the facts and the ability to make the decision for the board based on real facts.
To keep it confusing, the Board of Review website doesn't even tell you which districts the three commissioners represent.
Marty Stack is running in the contest for the 1st District which runs north and south from Frankfort all the way to Barrington. The 1st District covers most of the Southwest Side readership including most of Lyons Township, Palos Township, Worth Township, Orland Township and the Des Plaines Valley. That includes, among others, Bridgeview, Lyons, Palos, Oak Lawn, Evergreen Park, Hometown, Willow Springs, Hickory Hills, Alsip and Orland Park and Orland Hills.
Stack is challenging Dan Patlak, a rightwing Tea Party activist.
The 2nd District is represented by Michael Cabonargi, who has no challenger.
The 3rd District includes most of South and Southwest Chicago including small parts of Lyons and Bremen Township and is represented now by Larry Rodgers, Jr., who is not up for re-election until 2018.
(Ray Hanania is an award winning former Chicago City Hall reporter and columnist. Email him at [email protected].)
This post has already been read 3132 times!

Ray Hanania is senior blogger for the Illinois News Network news site. He is an award winning former Chicago City Hall political reporter and columnist who covered the beat from 1976 through 1992 (From Mayor Daley to Mayor Daley). And, Hanania is a stubborn and loud critic of the biased mainstream American news media.

Hanania covered Chicago political beats including Chicago City Hall while at the Daily Southtown Newspapers (1976-1985) and later for the Chicago Sun-Times (1985-1992). He published The Villager Community Newspapers covering 12 Southwest suburban regions (1993-1997). Hanania also hosted live political news radio talkshows on WLS AM (1980 - 1991), and also on WBBM FM, WLUP FM, WSBC AM in Chicago, and WNZK AM in Detroit.

The recipient of four (4) Chicago Headline Club "Peter Lisagor Awards" for Column writing. In November 2006, Hanania was named "Best Ethnic American Columnist" by the New American Media;In 2009, he received the prestigious Sigma Delta Chi Award for Writing from the Society of Professional Journalists. Hananiaalso received two (2) Chicago Stick-o-Type awards from the Chicago Newspaper Guild, and in 1990 was nominated by the Chicago Sun-Times for a Pulitzer Prize for his four-part series on the Palestinian Intifada.

Hanania writes columns for the Southwest Community Newspaper Group including the Des Plaines Valley News, the Southwest News-Herald, the Regional News and the Reporter Newspapers.

Latest posts by RayHananiaINN (see all)