Raising taxes is never about healthy living
Instead of raising taxes on soda pop, how about cutting the obscene $4.4 billion a year budget for Cook County. Merge Cook County into Township government. Eliminate redundancies that are outrageous. End the double dipping pensions and payrolls politicians in Cook County now get.
Published in the Southwest News-Herald Oct. 20, 2016
By Ray Hanania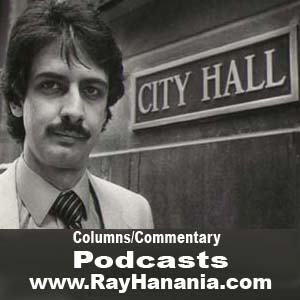 I've been drinking Coke and Diet Coke now for more than 40 years, so I kind of take offense when Cook County Board President Toni Preckwinkle says she's concerned about the public health and wants to impose a draconian sales tax hike on soft drinks.
What is troubling to me is how politicians slam things like smoking cigarettes, car pollution, drinking alcohol, and drinking pop because it's "not healthy."
If smoking cigarettes are so bad, why not ban them? Why not ban alcohol, if it is so bad for our health? Why not ban all soft drinks, too, or limit how far we can drive in our cars?
It's not about our health and never was. It is about money. Your money. And the special word they use to refer to "your money" is "taxes". They need your taxes and they think that they can waste our taxes by pitting tax hikes against "caring" for our health.
People who smoke cigarettes pay more for taxes than they do for the cigarettes. And they're smoking because society has made smoking luxurious. Just watch the old movies. Humphrey Bogart rarely had a line without puffing on a cigarette. Lucille Ball (Lucy Ricardo) smoked all the time, too.
The truth is in this overburdened world, we should be able to make our own choices. If I want to smoke, that's my choice, until you take it away.
And if I want to keep drinking Diet Coke, that's my choice, too. I don't need any "political holy roller" to moralize about how I should conduct my life.
Why don't you spend your time conducting your own life, like eliminating all the waste in the governments you run? How about starting with cutting back on all those fat pensions government officials give themselves, or limiting people to one pension, not two pensions, not three pensions, and not four pensions funded through "public service".
I'm against the outrageous increase in taxes on the sale of soft drinks. Preckwinkle wants to charge one penny more per ounce, on top of the nearly 10 percent sales tax we now pay throughout many areas of Cook County.
To balance the county's budget?
When my home budget is more than my revenues, I cut out a lot of the frills. We travel less. We buy less. We spend less.
Maybe Cook County should give it a try?
Listen to the podcast by clicking here or using the podcast widget below:
Sure, they don't have the same level of services that Cook County "claims" to offer its citizens. But the taxes are so much more affordable. People there live comfortable and safe lives.
Maybe Preckwinkle should look into merging county government. It's too big. It's redundant. The overlap is obscene.
Don't tax my pop Toni. As a suburbanite, I get so very little from Cook County as it is now. And I know most Chicagoans get so very little from Cook County, too.
I bet if you shut down Cook County for one month, the world would figure a way to survive without spending $4.4 billion. That's $4.4 billion that Cook County now spends. To do what? Manage a forest preserve district that could be better managed by local governments? Continue to poorly run our jails that should be privately contracted? Privatize the hospitals that most county residents don't use anyway?
Keep the courts, and some record keeping, but get rid of the rest.
I think the suburbs should dissolve all of county government and make a clean break from Cook County. We have township government that basically offers the same services, but more cheaply.
Let's raise a can of Diet Coke to stop Preckwinkle's tax hike, the same way we stopped Todd Stroger's sales tax.
(Ray Hanania is an award winning former Chicago City Hall reporter. Email him at [email protected])

Ray Hanania is senior blogger for the Illinois News Network news site. He is an award winning former Chicago City Hall political reporter and columnist who covered the beat from 1976 through 1992 (From Mayor Daley to Mayor Daley). And, Hanania is a stubborn and loud critic of the biased mainstream American news media.

Hanania covered Chicago political beats including Chicago City Hall while at the Daily Southtown Newspapers (1976-1985) and later for the Chicago Sun-Times (1985-1992). He published The Villager Community Newspapers covering 12 Southwest suburban regions (1993-1997). Hanania also hosted live political news radio talkshows on WLS AM (1980 - 1991), and also on WBBM FM, WLUP FM, WSBC AM in Chicago, and WNZK AM in Detroit.

The recipient of four (4) Chicago Headline Club "Peter Lisagor Awards" for Column writing. In November 2006, Hanania was named "Best Ethnic American Columnist" by the New American Media;In 2009, he received the prestigious Sigma Delta Chi Award for Writing from the Society of Professional Journalists. Hananiaalso received two (2) Chicago Stick-o-Type awards from the Chicago Newspaper Guild, and in 1990 was nominated by the Chicago Sun-Times for a Pulitzer Prize for his four-part series on the Palestinian Intifada.

Hanania writes columns for the Southwest Community Newspaper Group including the Des Plaines Valley News, the Southwest News-Herald, the Regional News and the Reporter Newspapers.

Latest posts by RayHananiaINN (see all)