Cicero officials cut the ribbon on the new Cicero Campus Park park and on a new, state-of-the-art Animal Shelter
The Town of Cicero officially cut the ribbon Thursday (Sept. 15) on a new park and state-of-the-art Waggin' Tails Animal Shelter at 18th and Laramie during ceremonies attended by more than 200 area residents.
The new Cicero Campus Park will showcase the town's new Animal Shelter which also features 3 dog parks and walking trails for Cicero families with their pets.
The Cicero Campus Park features a skate board tube, new children's playground equipment, a sand volleyball court, bean bag courts, a gazebo and rest area, and outdoor health and exercise equipment.
The new animal shelter is located adjacent to the existing shelter at 1634 S. Laramie Avenue. Waggin' Tails Animal Shelter was first opened in 2007 in response to a growing need for animal care.
"When Larry Dominick was elected president in 2005, one of his first acts was to expand the town's Animal Control Department, which picked up and placed stray dogs and cats in a 2-car garage. It was depressing and there were no programs to promote adoptions of the animals. Most of the animals taken there were put to sleep by the prior administration after only a few days," said Town Planning Director Craig Pesek who served as the event emcee.
"Within two years after President Dominick was elected, we expanded the new Animal Control Department o also include an animal shelter we called Waggin' Tails. The purpose was to take in abandoned and unwanted animals, bring them back to full health and then make them available for adoption."
Today, the Town operates a no-kill shelter and manages more than 100 dogs and cats at one time and dozens of the animals are adopted each week
"What we have been able to do now is build a new building that is specifically made to care for and house the dogs and cats in an environment that encourages adoption," President Dominick told the attendees at the ribbon cutting.
"When I first came to office, we founded a temporary shelter to house the dogs, cats and other pets that were being abandoned. It replaced the two-car garage where the dogs and cats had been taken before I became president. We opened Waggin' Tails to provide a more effective way of not only treating the abandoned dogs and cats, but also to encourage their adoption and we believe we have been very successful."
The new building is slightly larger than the existing animal shelter, about 6,500 square feet. It includes separate staging areas for new dogs and new cats that are brought into the shelter for the first time. New animals are placed in an observation room where any diseases or problems are addressed before they are put into the general population and placed for adoption, Pesek said.
"We have a new area for the dogs and a separate new area for cats. There are socialization rooms where families can spend time with the pets before adopting them, and Waggin' Tails will continue to offer a full line of immunizations for the pets at a very reasonable price," Pesek said.
The new shelter property will also offer a covered semi-outdoor play and exercise area for dogs that have not yet been adopted.
"Additionally, the new property and park will include a Dog Park where families that already have dogs can bring them to play. There is a small dog area and a large dog area. And, there is a training area where the Town plans to have programs to provide training and direction programs for families that have dogs and also for the dogs that are being kept at the shelter," Pesek explained.
Pesek said Cicero Campus Park officially opened September 15, but the new Waggin' Tails building will be in full operation by October 1 and open to the public on October 1.
For more information on the new Waggin' Tails Shelter and for information on the shelter's services, please visit the Town's website at www.TheTownofCicero.com or the shelter's Facebook page at www.Facebook.com/WagginTailsCicero.
You can also view more photos of the new park and animal shelter on the Town's Facebook Page at: Facebook.com/TownofCicero.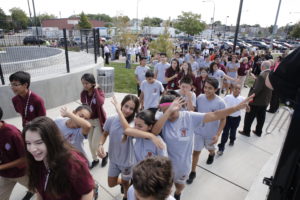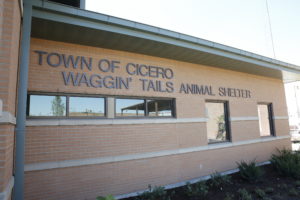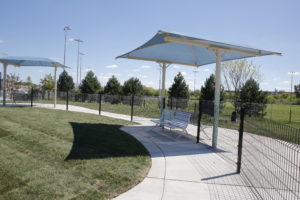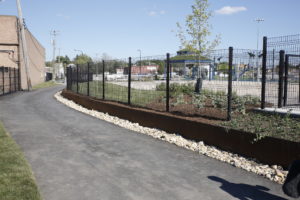 Ray Hanania is senior blogger for the Illinois News Network news site. He is an award winning former Chicago City Hall political reporter and columnist who covered the beat from 1976 through 1992 (From Mayor Daley to Mayor Daley). And, Hanania is a stubborn and loud critic of the biased mainstream American news media.

Hanania covered Chicago political beats including Chicago City Hall while at the Daily Southtown Newspapers (1976-1985) and later for the Chicago Sun-Times (1985-1992). He published The Villager Community Newspapers covering 12 Southwest suburban regions (1993-1997). Hanania also hosted live political news radio talkshows on WLS AM (1980 - 1991), and also on WBBM FM, WLUP FM, WSBC AM in Chicago, and WNZK AM in Detroit.

The recipient of four (4) Chicago Headline Club "Peter Lisagor Awards" for Column writing. In November 2006, Hanania was named "Best Ethnic American Columnist" by the New American Media;In 2009, he received the prestigious Sigma Delta Chi Award for Writing from the Society of Professional Journalists. Hananiaalso received two (2) Chicago Stick-o-Type awards from the Chicago Newspaper Guild, and in 1990 was nominated by the Chicago Sun-Times for a Pulitzer Prize for his four-part series on the Palestinian Intifada.

Hanania writes columns for the Southwest Community Newspaper Group including the Des Plaines Valley News, the Southwest News-Herald, the Regional News and the Reporter Newspapers.

Latest posts by RayHananiaINN (see all)