This post has already been read 1300 times!
"Law and order" today and 50 years ago. Is the violence between African Americans and American police a new phenomena or an old one? Looking back 50 years ago we see that this violent phenomena has been around a long time with no real solution or change.
By Ray Hanania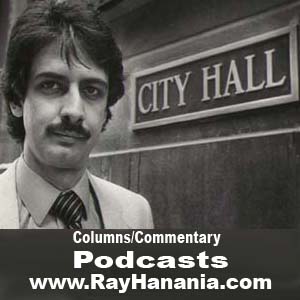 When we look at the terrible rise in violence between police and mainly the African American community, we think this is a new phenomena.
But it's not.
I was listening to an audio book by author Gabriel Sherman called "The Loudest Voice in the Room," a detailed look at the rise of Roger Ailes, the unscrupulous political activist who built the equally unscrupulous Fox News Cable Network only to be forced out recently in an unscrupulous sex scandal.
And they say there is no justice!
The book describes how Ailes helped candidate Richard Nixon overcome his broadcast problems to win the 1968 presidential election.
In preparing Nixon for TV, Ailes arranged for panels to ask questions. One panel included journalist Warner Saunders, a rising African American anchor at WMAQ TV who I met while covering Chicago City Hall in the late1970s. He retired in 2009.
Saunders asked Nixon a question that could have been asked today.
"The Black Community feels the term 'Law and Order' means violence, destruction inside of our community on the part of a recalcitrant police department, on the part of recalcitrant mayors and other officials inside of our community. What does Law and Order mean to you?" Saunders asked.
Nixon acknowledged the phrase "Law and Order" was viewed as a "code word for basically racism."
Though Nixon offered a politically correct answer, he acknowledged, "past injustices never justify law breaking."
Jump ahead 50 years, and we have the same discussion taking place today. It is depressing that nothing really has changed between then and today.
We've seen several incidents, justified and unjustified, of uniformed police officers shooting and killing African Americans. But in all of the cases, the Police Union, the Fraternal Order of Police (FOP) in Chicago, for example, defended all the police officers, their members, from criticism.
To me, that is a major problem that has contributed to the continuation of the violence. Many of the high profile police shootings we've seen on TV recently are justified. But many are unjustified and outright crimes. Instead of separating good police from bad police, police unions and leaders defend them all. And that is wrong.
In North Miami recently, we again saw White uniformed police officers surround a Black man, Charles Kinsey, who this time was lying on the ground with his hands in the air next to an autistic patient, who was identified as being non-Black. Kinsey repeatedly told police the man next to him was his patient and is autistic. He begged them not to shoot.
The police shot the Black man who was lying on the ground with his hands raised in the air firing three shots.
At first, the autistic man was identified as being White. Later, it was disclosed that he was in fact Hispanic. But that raises a real question and concern.
Immediately, the head of the local police union, John Rivera president of the Dade County Police Benevolent Association, defended the officer's outrageous misconduct and criminal behavior. He argued incredulously that the police officer meant to shoot the autistic patient, and he insisted the shooting is justified.
Did the police shoot the Black man and avoid shooting the Autistic man because he was seen as being White, or because he was non-Black?
That's the problem with our situation today. The Police representatives would rather stand with the guilty than defend the majority of police who adhere to the laws.
I asked Saunders, who is a friend of mine on Facebook, if anything has changed between then and now, and he responded, explaining:
"I think it is better today because black people are far less afraid and far better educated than 50 years ago."
Saunders continued, "We were pleading to be accepted by whites hoping they would understand and celebrate our progress. But most did not. Many of us were first disappointed and then angry at Whites and ourselves for believing this Country really wanted a diverse society … but oh, we were wrong … Disappointment turned to anger … Separation, not segregation became the answer to many of the snubbed."
Saunders added, "There is a profound difference between those two concepts: segregation is when the more powerful dictates the movement of the less powerful … Separation carried out with a degree of pride… Where segregation is devoid of pride."
Saunders said the Black community "sees right through" the racism of people like Donald Trump.
We hope that things have changed over the past 50 years. But the truth is things have not changed. We have learned nothing. And that should make us all sick, Black and White.
Click here to listen to the audio podcast of this column, or use the widget below
(Ray Hanania is an award winning former Chicago City Hall reporter and columnist. Email him at [email protected].)

Ray Hanania is senior blogger for the Illinois News Network news site. He is an award winning former Chicago City Hall political reporter and columnist who covered the beat from 1976 through 1992 (From Mayor Daley to Mayor Daley). And, Hanania is a stubborn and loud critic of the biased mainstream American news media.

Hanania covered Chicago political beats including Chicago City Hall while at the Daily Southtown Newspapers (1976-1985) and later for the Chicago Sun-Times (1985-1992). He published The Villager Community Newspapers covering 12 Southwest suburban regions (1993-1997). Hanania also hosted live political news radio talkshows on WLS AM (1980 - 1991), and also on WBBM FM, WLUP FM, WSBC AM in Chicago, and WNZK AM in Detroit.

The recipient of four (4) Chicago Headline Club "Peter Lisagor Awards" for Column writing. In November 2006, Hanania was named "Best Ethnic American Columnist" by the New American Media;In 2009, he received the prestigious Sigma Delta Chi Award for Writing from the Society of Professional Journalists. Hananiaalso received two (2) Chicago Stick-o-Type awards from the Chicago Newspaper Guild, and in 1990 was nominated by the Chicago Sun-Times for a Pulitzer Prize for his four-part series on the Palestinian Intifada.

Latest posts by RayHananiaINN (see all)