This post has already been read 2721 times!
Cicero unveils new memorial to Pearl Harbor attack, honors local hero of USS Arizona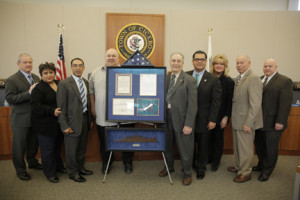 The Town of Cicero unveiled a new memorial honoring American Military Veterans who served and fought at Pearl Harbor on Dec. 7, 1941. Cicero resident Joseph Philips Steffan (click here for more information) was killed while serving on the USS Arizona, which todays is a national Veteran's War Monument.
The Pearl Harbor museum donated a metal relic taken from the sunken battleship which was placed in a memorial display that the Town of Cicero Board of Trustees will soon permanently fix to the outside wall at the entrance of the Cicero Board Council Chambers.
The USS Arizona relic is rare, but because a resident of Cicero served and died in the attack on the USS Arizona, the US Military agreed to provide a relic from the ship that could serve as a reminder of the sacrifice that American military veterans make to defend their country and citizens.
"We are proud of Chief Petty Officer Joseph Philip Steffan's service to his country. He made the ultimate sacrifice and we are honored to be able to remember him and all of the veterans who have served our country," said Town President Larry Dominick.
This post has already been read 2721 times!
Ray Hanania is an award winning former Chicago City Hall political reporter and columnist who covered the beat from 1976 through 1992 (From Mayor Daley to Mayor Daley).

Hanania covered Chicago political beats including Chicago City Hall while at the Daily Southtown Newspapers (1976-1985) and later for the Chicago Sun-Times (1985-1992).

The recipient of four (4) Chicago Headline Club "Peter Lisagor Awards" for Column writing. In November 2006, Hanania was named "Best Ethnic American Columnist" by the New American Media;In 2009, he received the prestigious Sigma Delta Chi Award for Writing from the Society of Professional Journalists. Hananiaalso received two (2) Chicago Stick-o-Type awards from the Chicago Newspaper Guild, and in 1990 was nominated by the Chicago Sun-Times for a Pulitzer Prize for his four-part series on the Palestinian Intifada.
Latest posts by RayHananiaINN (see all)