By Ray Hanania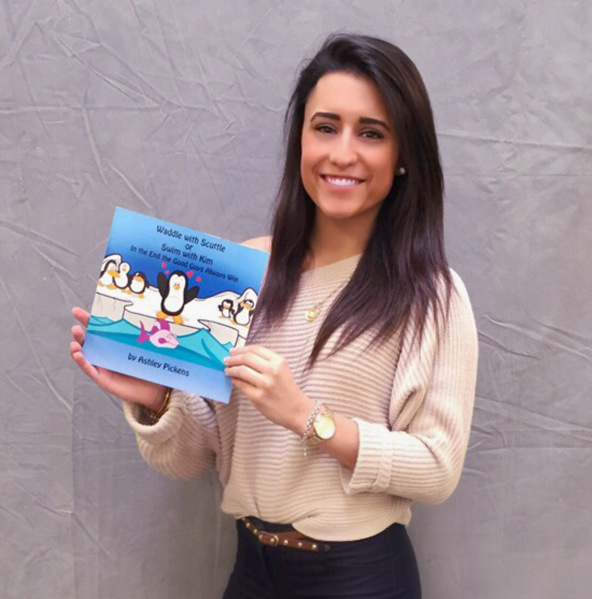 Former Sandburg High school graduate Ashley Pickens has authored a new illustrated children's book "Waddle with Scuttle or Swim with Kim" that she will showcase during a book party this Friday at Barraco's in Mt. Greenwood.
A resident of Orland Park and now attending Lewis University, Ashley Pickens illustrated the book, drawing on skills she learned from her father, Jeff Pickens, who passed away in 2008.
Her father's passing muted her creative drive but she returned to her drawing and art interests when she entered Junior High School.
"I decided that I wanted to do something that would send a message to everyone, especially to the younger generations," Pickens says. Her father's memories inspired her to write and illustrate the children's book.
"This book teaches young children that being unique is okay and helps them grow as readers."
Pickens said the public is invited to the book party this Friday, June 12 from 5 pm until 9 pm at Barracos Pizza, 3047 W 111th Street, Chicago. For more information, you can call the restaurant at 773-239-3333.
"Waddle with Scuttle or Swim with Kim is filled with rhyming words and word families to enhance children's vocabulary and reading, but overall has a great message and is a fun book for all children," Pickens, 21, explains.
At the age of 21, Pickens expresses, in her own words, that "we are all different and that is what makes us unique. Embracing and celebrating these differences brings out our purest emotion, LOVE! Life is about not knowing what is going to come next, but realizing that everything happens for a reason. Taking each moment that is given to us and making the best of it can change your life forever. Trust in your journey and be yourself. True beauty shines through acceptance, confidence, courage, and love!"
Ashley Picken's book "Waddle with Scuttle or Swim with Kim" is available online at Amazon.com and BarnesandNoble.com.
The book will also be selling it at The Kimberly Bond Boutique in Orland Park.
Show your support and attend the book party and help Ashley spread the book's beautiful message to children everywhere!
Click here to like the "Waddle with Scuttle or Swim with Kim" Facebook Page